My joy is gone,grief is upon me,my heart is sick.
Hark, the cry of my poor people from far and wide in the land (Jeremiah 8)
This week I have felt plenty of anger about the way people who live in poverty.  Ever since I knew I was coming to Eastern Kentucky, the question about the persistent poverty in this region has haunted me.  I remember hearing about Appalachia when I was a child.  I am heading towards 60 and as far as I know, the depth of poverty still exists in this region.
This week, I attended Brushy Fork Institute and had a chance to talk to many people who have grown up in Appalachia.  I have asked the question about the persistence of poverty and received many answers.
In addition, at St. Agnes House I understand how important the Episcopal Church's provision of such a ministry is essential to people with few resources who are trying to receive medical care.  While so many are generous with donations of money and supplies and the wonderful quilts we received this week… there is still and almost overwhelming need for physical repairs and maintenance to the house.  As I research similar ministries, I notice their staffs are two to three times the size of ours and their fundraising efforts greatly overshadow what we have done.  Is it because we serve so many people who are poor and fall through the cracks, I wonder?
Then the United States House of Representatives voted to withdraw millions of dollars from the SNAP program, commonly referred to as Food Stamps.  I know we've all heard or maybe seen people at stores buying what we judge as unnecessary or expensive food items with SNAP benefits, but truly the majority of people receiving these benefits are hungry.  Many are children who cannot provide their own food.  There is so much hunger that the backpack programs which send food home with children in a backpack have become popular.  In addition, SNAP benefits are used right in our own communities with the local grocery stores and farmer's markets.  The "money" received supports the local economy.
We do not question when a person  makes more money than could ever be spent in a lifetime.  We do not ask whether they deserve that amount.  Why aren't teachers and firefighters and police officers paid the most, for instance?  But it seems like we always question whether people who live in poverty deserve any kind of assistance.    We decry our politicians' personal lives and judge them immoral, yet never include our own failure to address poverty as immoral.  We do not demand that poverty be addressed.  We rather prefer to believe that people choose to be poor.
So Jeremiah cries out to us this very day.  Jeremiah tells us how heartbroken God is because we stray…because we allow children to go hungry.  Lord, when did we see you sick or hungry or in prison or without clothing or without water and not assist you, we ask.  And we are reminded that when we deny the basics of life to any of God's creation, we have denied God.
Tell me what you think.  Let's explore this together.  It's not an easy topic and maybe my anger is totally displaced.  Look forward to hearing from you….
Love,
Rebecca
Rebecca's Schedule
Next week, I will be in the office on Tuesday, September 24.  Please feel free to contact me any time, however, by calling 859-429-1659 or rev.myers2013@gmail.com.
Follow St. John's on Pinterest: http://www.pinterest.com/stjohnscorbin/   Thanks to Mary Swinford for creating the St. John's Pinterest page.  Pin Away!
Memorial for Ed VanGorder on Sunday, September 22, 2pm
Come to the Barn at 2pm on Sunday, September 22, to celebrate the life of Ed VanGorder.  June says to come with an appetite and ready to tell your favorite stories about Ed.  We will process to the columbarium for the inurnment.
5th SundaysCelebrate Hispanic Heritage Month on Sunday, September 29, with bi-lingual service and potluck
September 15-October 15 is National Hispanic Heritage Month, so on September 29, much of our service will be bi-lingual, English/Spanish.  I hope hearing familiar words in a language that may be unfamiliar brings new meaning to us and also reminds us that we are connected to a Worldwide communion.
Start now to practice The Lord's Prayer in Spanish:
Padre nuestro que estás en el cielo,
santificado sea tu Nombre,
venga tu reino,
hágase tu voluntad,
en la tierra como en el cielo.
Danos hoy nuestro pan de cada día.
Perdona nuestras ofensas,
como también nosotros perdonamos
a los que nos ofenden.
No nos dejes caer en tentación
y líbranos del mal.
Porque tuyo es el reino,
tuyo es el poder,
y tuya es la gloria,
ahora y por siempre. Amén.
Would you like to be baptized, confirmed or received into the Episcopal church?
Bishop Hahn will make his annual visit to St. John's on Sunday, October 20. If you would like to be baptized, confirmed or received into the Episcopal church, please let me know so we can schedule the appropriate classes.
Christian Formation for children and adults begins October 6
Children are invited to participate in the Godly Play program. Prayerfully consider assisting with the spiritual formation of the children in our parish.  Anne Day and Dura Anne are asking for additional assistance in this important task.  Let's show our children how much we value them and how important their spiritual development is to us.  If you can help regularly or occasionally, it would be appreciated.  Please let me know.
Adults are invited to participate in an exploration and discussion of the book, "Radical Welcome" by The Rev. Stephanie Spellers
What does it mean to be a Christian community that is radically welcoming?  And how can we become such a community?  This book provides helpful information and real-life stories.
Bruce Cory, Steve Gilbert, John Harris, and Mary Swinford have agreed to lead this series.  Leaders will provide summaries of the various sections of the book, and lead us in discussion over 6 sessions from October 6 – November 17.  If you'd like to lead or know of someone you'd like to have lead, we could use two more people.
For more information, go to https://www.churchpublishing.org/products/index.cfm?fuseaction=productDetail&productID=451 and to watch a YouTube video go to http://www.youtube.com/watch?v=9J9JOsRtzUc
Blessing of the Animals, Sunday, October 6, 3:00-5:00pm, St. John's Park
Bring your furry and feathered friends to the St. John's Park, College Street on Sunday, October 6, 3-5pm for a special blessing.  Cats, dogs, birds, other domestic pets or farm animals, and all God's creatures are welcome. Animals must be leashed or caged and under control of a caretaker at all times. Co-sponsored by: St. John's Episcopal Church, and The Presbyterian Church of Corbin.
Fellowship cookout and games for the kids, Sunday October 13, 6pm at Corbin Presbyterian Church.  First Baptist Church will also be there.  Bring a side dish if you'd like. 
Daughters of the King meeting, Wednesday, October 16, 4-5pm at the church.  
Belk Charity Sale – Saturday November 9, 6am – 10am.  Tickets are on sale now for this special event.  All ticket sales benefit the church.  Tickets are $5.00 each, which provides admittance to this special sale as well as $5.00 off your purchase.  Buy more than one ticket!  They may be used at any Belk store.  Also plan to buy an extra clothing item to donate to the residents of the homeless shelter.  Information is at the kitchen window of the church.  Volunteers are also needed to assist at the store on the day of the event. A sign-up sheet is available at the kitchen window.
 Let's plan to attend the Diocesan Ministry Fair, Saturday, November 9, 9:30am – 3:00pm at Emmanuel Church, Winchester
Bishop Hahn is inviting all of us to the First Annual Ministry Fair – Toward a More Excellent Way.
A great gathering of music, fellowship and keynote address will be followed by three workshop sessions and a shared lunch. Workshops topics, include Christian Education in Small Parishes, Leadership For Vestries, Lay Ministry Updates, An Overview of the Gospel of Mark (for Our Liturgical Year A), and What's New at Reading Camp. There will be six workshop choices for each session – something to help every parish and every participant find a more excellent way of ministry.
The Reverend Barbara Blodgett will be the keynote speaker. Dr. Blodgett teaches Pastoral Leadership at Lexington Theological Seminary. Prior to this she was head of Supervised Ministry for Yale Divinity School. Her fields of expertise are leadership, ethics, and excellence. Dr. Blodgett will offer a workshop in addition to her keynote address.
The Rev. Brandt Leonard Montgomery, Curate and Assistant Chaplain, University of Alabama to preach and teach on Sunday, November 10
I went to seminary with Father Montgomery.  He is excited to visit Corbin.  He will teach during the Adult Forum regarding the civil rights movement 50 years later.  Below is information about Father Montgomery.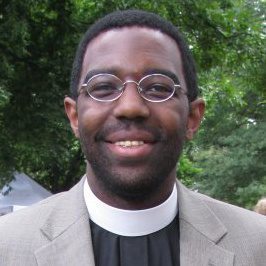 Brandt currently serves as the Curate at Canterbury Episcopal Chapel & Student Center at the University of Alabama.  After graduating from Talladega High School in Talladega, Alabama in 2003, Brandt enrolled at the University of Montevallo in Montevallo, Alabama, from which he received the Bachelor of Arts degree in Music Performance, specializing in Trumpet Studies, in 2007.  On May 16, 2012, Brandt graduated cum laude from The General Theological Seminary of The Episcopal Church in New York, New York, receiving the Master of Divinity degree and being named his class's recipient of the George Cabot Ward Prize for Biblical Reading and Service to the Church.  In addition to Canterbury Chapel, his ministry, thus far, has included service to 6 Episcopal parishes in Alabama, Florida, Texas, Pennsylvania, and New York.  Brandt was ordained as a deacon in the Episcopal Church by the Rt. Rev. John McKee Sloan, Bishop of Alabama, on Pentecost Sunday, May 27, 2012 and was ordained by the same as a priest on December 2, 2012 at Canterbury Chapel.
ECW Chocolate Fest, Saturday, December 7.  Plan now to attend this annual holiday event.  Planning meetings and chocolate making and craft making will begin soon.  
Follow us on Facebook, Twitter, Pinterest and Subscribe to our Website Feed!
Facebook:  https://www.facebook.com/StJohnsCorbin
Twitter:  https://twitter.com/StJohnsCorbin
Website:  http://stjohnscorbin.org/?subscribe=success#blog_subscription-2
Pinterest:  http://www.pinterest.com/stjohnscorbin/